Estage Agent
Best Real Estate Agent or Property Portal Website. Turn your wordpress into Real Estate portal website
Allow user to pay & submit properties on your site
Multi Negotiator, Branch or Estate Agent site with profiles
Strategically built real estate site with professional design
User dashboard. Negotiator, Branch or Estate Agent can edit/renew their submissions
Auto generated Google Maps and Image Slideshows
many more awesome, unmatched features.
Alternatively, for a very low budget and to promote a single property, our cheap Property Letting or Property Sales website maker can be considered here: www.PropertySiteMaker.com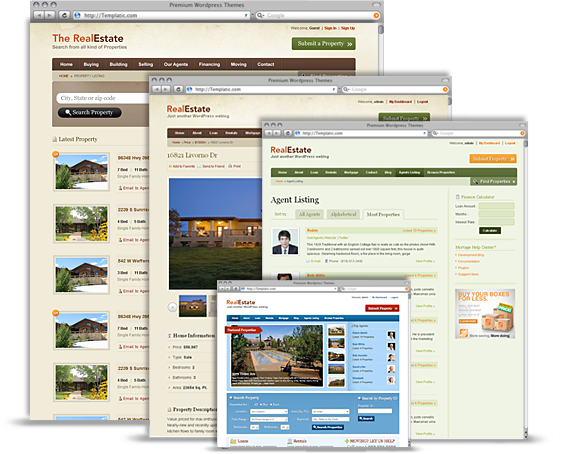 A strategically built real estate wordpress theme that has all necessary features that you may want in an estate agent website. Plus, a professionally structured, elegant design. Screen shots follow to display features.
Real Estate Agent Features Tour
The homepage lists a dynamically generated slideshow of featured properties submitted by the users. The multi-category search is one of it's kind where users can select multiple criteria and search properties as per their requirement. Multiple widget ready areas lets you add any widget of your choice in the sidebar, big footer or at the page middle area.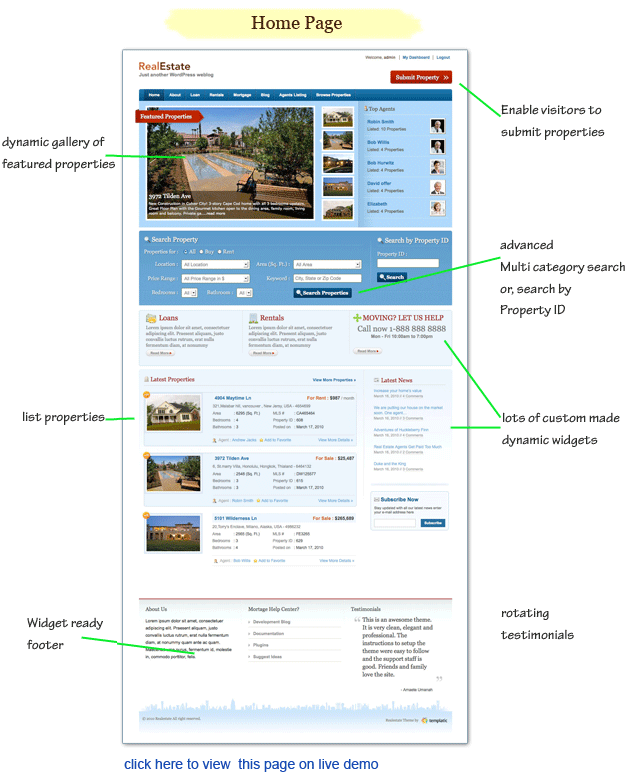 Once the user search property as per their criteria, the properties are listed with all the necessary parameters that lets them select the property of their choice. They may switch view either to grid list or, thumb gallery view as per their choice. Not only that, the users may even add the property to favorite so they can check the property later from their member area dashboard. Admin may display different sidebar on this page and add widgets of their choice. This theme is full of custom, dynamic widgets such as top agents, finance calculator, user login, advertise blocks, testimonials and so on.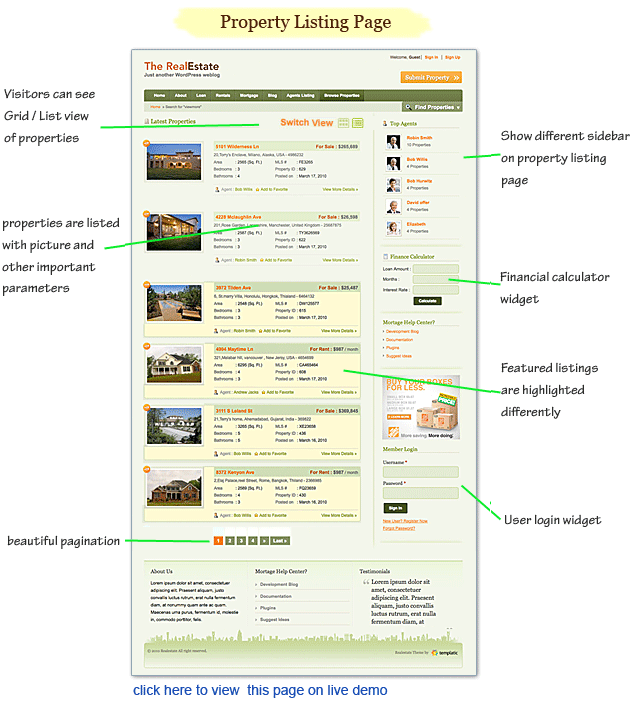 The property details page where users can see the actual property in detail has been structured with much care. Property Lister may add as many photos as they wish and those photos will auto magically be displayed in a photo gallery slideshow. Rest of the details are displayed elegantly and in strategic manner. The agent details is displayed a bit lower with the full contact details and appropriate links so the visitor can get all info about the property being sold, seller and may contact them by filling out a simple form. The email will be sent directly to the person who listed the property.
Google map is automatically generated and displayed on the page based on the property address the user enters while submitting a property. Admin may choose the list similar/related properties at the end of the page based on the criteria of his choice.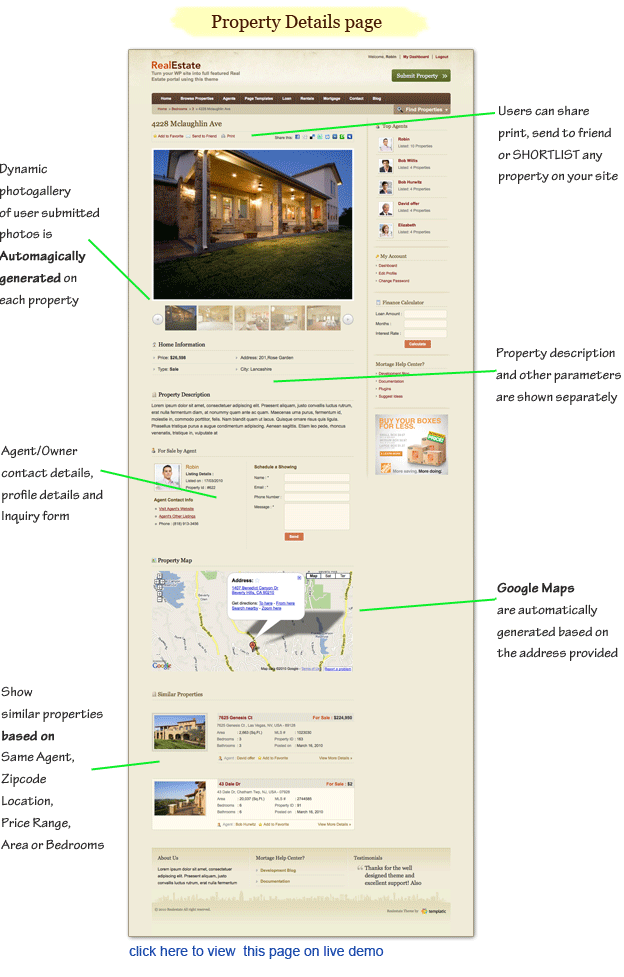 Your visitor's won't have go to wordpress back end. They can simply log in quickly or may continue to submit property. If she is a new user, log ins will automatically sent when the property is submitted. Plus, the whole new image upload feature lets you select and upload unlimited images that you can sort order once the property is submitted. Not only that, the theme will also resize and arrange it in dynamic photo gallery slideshow in the property details page.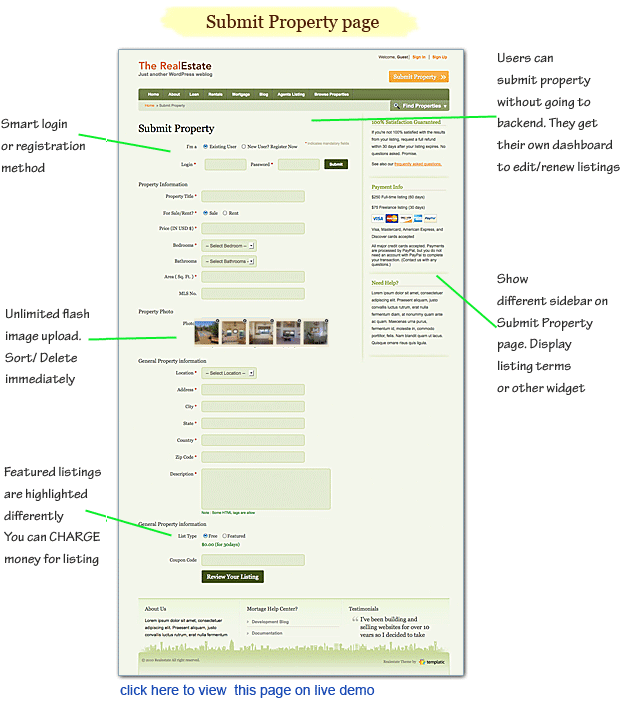 Person who submits a property on your site automatically becomes an agent and the public / private profile of the users is shown on the site. If the user is logged in, he may check his shortlisted properties and manage his own listing (edit/delete/renew).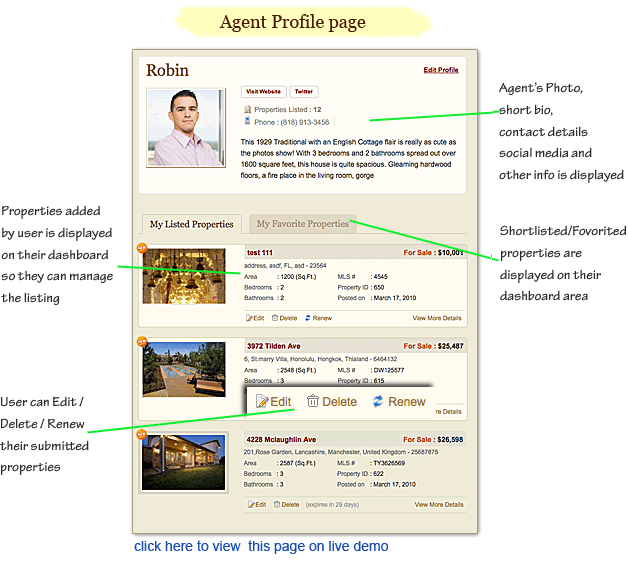 Site visitors may view list of all the agents who published a property on your site. They may sort them by "All", "Alphabetically" or the one who published "most properties" on your site. if they wish to know more about an agent, they may click ht view profile link and see the complete details of the agent.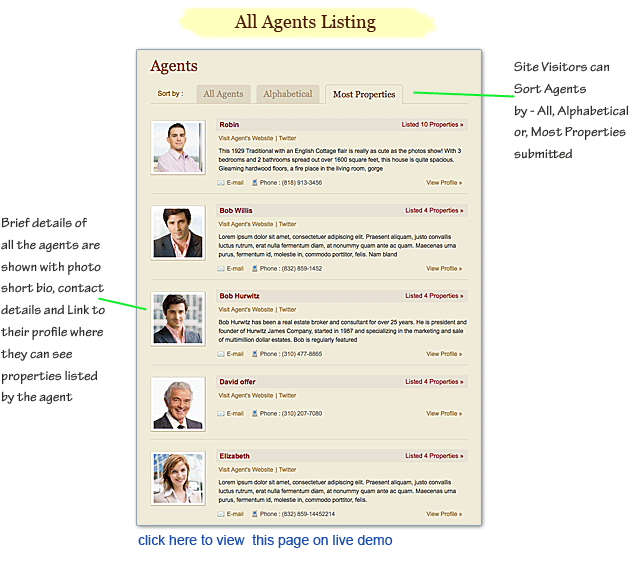 You may set the property listing terms on the site. You may enable any or all the payment methods mentioned below. Earning money gets easier. Doesn't it?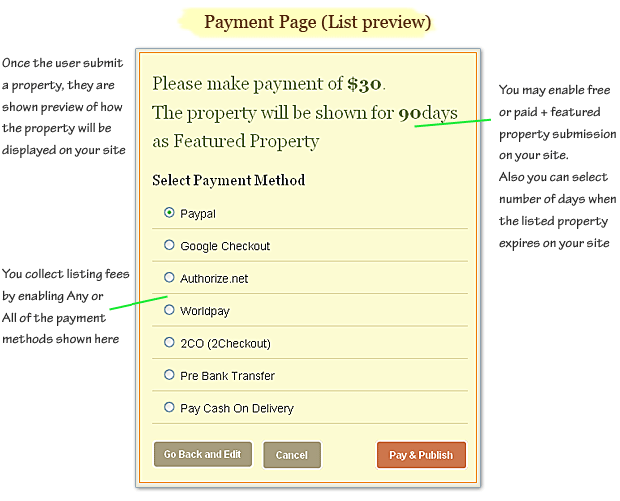 Standard Features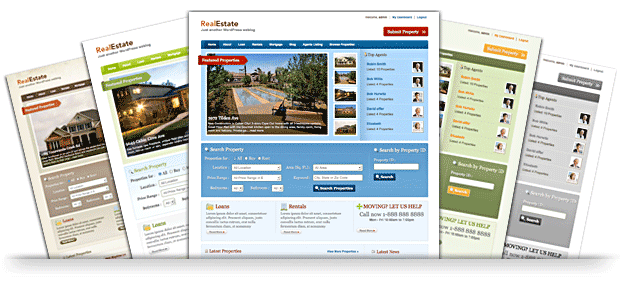 Five detailed color schemes
Fully customizable front page and many widget ready areas across all the pages/posts.
Excellent Support
Multi level drop down menu
Custom page templates such as archives, full width page, sitemap, contact page etc.
Custom built, dynamic widgets that you can use multiple times.
Standard wordpress Blog & Pages
Gravatar Support & Threaded Comments
Built-in Ad Monetization
Widget Ready with custom widgets
Valid, Cross browser compatible
Why buy?
Possibly the best Real Estate Agents websites availiable. We have included the features very thoughtfully, neglecting to stuff every feature out there into this theme and including only the necessary features with best usability and easy of use so you can monetize your real estate agent or property portal site, at it's best.