Events
Create & manage your out of the box Events website easily
Fully featured Events website which showcases Events the simple and perfect way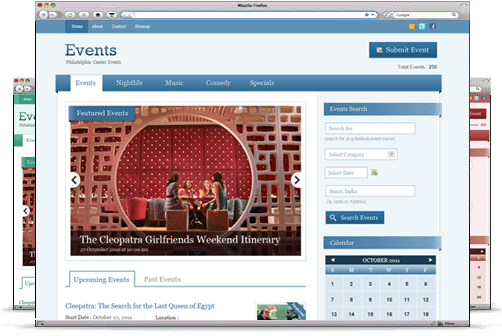 Events Features (click image thumbnails to view full screenshot)



Customizable Homepage

The homepage of the theme is customizable via dynamic widgets which are built specially for this theme. Designed strategically, the structure of the page is done in such a way that gives maximum exposure to essential elements.




Add Events

You can allow your site visitors to add Events on your site for free or can charge them a reasonable fees. You can allow it to automatically publish on your site or can choose keep them as draft unless you review that event. Support for six different payment gateways is included.




Featured Events

Add free or featured events/listings. Featured listing or events gets special attention and its highlighted and shown at the top of the listing.




Custom Taxonomy

We have used custom taxonomy in this theme. Now your Blog post and Events will remain different, all the time. No more confusion.




Event Listing Page

Show Event from a particular category and the viewer can know the Event start date, end date, time and location, without even visiting the detail page.




Event Detail Page

This page will display all the details about the event like event map, organizer details, image gallery, Register now button, etc. Users can directly contact the Organizer from this page.




Bulk Upload

If you want to add several events then you can even use the bulk upload feature to import several events altogether. Now uploading hundreds of events won't take much time and no more manual work.




Payment Options

Various types of Payment Options are integrated like Paypal, Google Checkout, Authorize.net, Worldpay, 2CO (2Checkout), Pre Bank Transfer and Pay Cash On Delivery .




Manage Price

You can create unlimited options on your site in the way you wish to charge the users for listing events. Manage Prices from this page and choose whether to keep it free or paid.




Sign In or Signup

Users can register on your site and can manage the Events they have listed on your site. Not only that, they can also renew the listing further once their listing has expired.




Blogging

You can have a news page on your site where you can list all the news/blog posts and users can comment in there as well.




Design Settings

Control everything from WordPress admin options, change color scheme, logo, navigation bar settings, google map latitude, longitude and scaling factor, Category page Settings, Place Detail page Settings, Add Listing page Setting, etc.
Standard Features of our WordPress Themes

Four detailed color schemes
Fully customizable front page
Excellent Support
Theme Guide & Tutorials
PSD File included with multiple use license
Drop Down menu
Gravatar Support & Threaded Comments
Built-in Ad Monetization
Built-in payment gateways
Widget Ready with custom widgets
Valid, Cross browser compatible
Why buy?
Now you can create a Event directory, list out the events, add reviews and rating, show locations through Google maps, monetize and earn from it, and these are just some benefits. We have included the features very thoughtfully, neglecting the not so important stuff and including only the necessary features with the best usability and easy of use.
Create a Events site easily.